Welcome to Happy Life 101!
We welcome all of you- the wacky parts that have made you feel different..
and parts you've kept hidden, silenced and left unexpressed-
Here... all of you is welcome!
After many years of intentional living, I am ready to guide you along the path and share with YOU
the secrets I share with clients around the world to LIVE A HAPPY LIFE . . .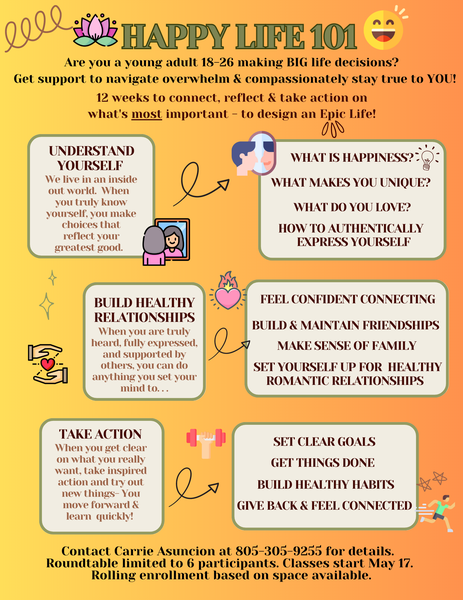 Are you feeling overwhelmed by the options available to you?
Unsure about which step(s) to take, so you stop yourself in your tracks?
Feeling anxious, and finding it difficult to focus on what really light's you up?
Tap into your EPIC life!
Experience the confidence of knowing yourself.
And recognize you aren't alone..
Be inspired by your own experiences and the of wisdom of your peers!
As a young adult (age 18-26) you are at a critical decision point in your life, where the decisions you make today (and don't make) will define your future...
Here's what I know:
* Even though it may not feel like it, you are in the perfect space right now
* You have important wisdom to share
* Even your difficulties have helped define what light's you up!
* These challenges have made you stronger and more able to persevere
* You are the expert of your epic life!
* Re-Imagine your best life- what's possible as you make important decisions for your life
* Grow your life as we ground and connect to what's most important to YOU
* Create a space for you to be heard, and your thoughts expressed as you deepen your relationship to yourself and others
* Trust your inner guidance as you set powerful intentions AND take inspired action
* Learn self-care practices to energize your daily life so you focus on thriving
Through weekly conversations around important parts of your life, you will realize
YOU are valuable, unique, and worthy of great relationships.
You will also take steps to include those things that are most important to you.
Bonuses (valued at over $550):
* Create a Blueprint for your Life -Visioning recording & worksheet
* Financial training to set yourself up for success
* Up to 2 personalized coaching sessions with Carrie to identify your unique strengths & clear the noise that keeps you stuck.
* & other winning strategies as needed
Past participants have raved:
* "Time to contemplate and ask for support" * "Renewed joy, passion and good news"
* "Deep community connection" * "Tools to see my vision more clearly"
* "the blueprint, encouragement, and accountability to follow through on my plans"
Your Guide:
Carrie Asuncion, MA works with high achieving clients around the world -combining feet on the ground wisdom with intuitive insight.
She helps you discover what makes you unique and how to align with your passions, as you calm your mind and body, so you can think clearly and creatively. Over the past 20+ years she's guided thousands around the world to trust themselves, as they bust through doubts, fears and confusion to create lives that they love. She's passionate about giving you the courage, confidence, skills to build an EPIC life!
Text Carrie with questions at 805-305-9255.
Invest in yourself & your future:
6 spaces available. Can't wait to co-create your EPIC life!
Scholarships available upon request.
Receive 30% off when you refer a friend and they join us.